Best Mobile Antenna 10 - 40 Meters
| | |
| --- | --- |
| | |
01-21-2008, 09:34 PM
Extraterrestrial Admin

Join Date: Apr 2005

Location: High Sierras Near Yosemite Nat Park

Posts: 5,172
Best Mobile Antenna 10 - 40 Meters
---
What are you guys running for HF in the Mobile?
73
Jeff
__________________
Radio-active
NASA/SOHO
When I was a child
I caught a fleeting glimpse
Out of the corner of my eye.
I turned to look but it was gone
I cannot put my finger on it now
The child is grown,
The dream is gone.
but I have become comfortably numb.
01-22-2008, 09:49 AM
Senior Member

Join Date: Apr 2005

Location: Reno,Nevada

Posts: 1,731
---
AudioShockWav maybe i can contribute to your thread in some way
I currently am using a wilson 1000 for 10 meters........rig is a yaesu ft-857.
Like most people money is a concern so i'm "piecing" together my mobile and in doing so i'm researching prices and ease of installation. Where i'm leaning towards right now is Atoc Technologies (IronHorse) monoband antennas.
Band width isn't all that great but would work for me,power is rated at 500 watts (except 75m~250 watts). Each antenna cost around $20 or you can get set of 5 with vinyl bag for $90.
I realize that you have to change each antenna for each band,which may be bothersome for some........but i'm still young
However IronHorse does make a quick diconnect for $22 dollars. In addition to the above cost a good triple magnetic mount will set you back $40.
So all in all
FOR ME
at around $150 this setup is what i'm looking at getting sometime soon. I'll keep you posted later with pro's and con's.
73
__________________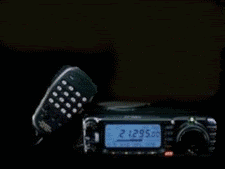 01-22-2008, 10:16 AM
guardian of freedom

Join Date: Jun 2005

Location: daegaba system

Posts: 803
---
For the ic-7000 i have
http://www.betterrf.com/7000-screwdriver.html
and
http://www.betterrf.com/7000-tune.html
now the ony thing left is the antenna which will be a Hi-Q I just can't decide wether to go for the 5/160 or go small 3/80. The reason i want to go small is if it is mounted on the roof the ground losses will be minimized and efficency will be better. there are other antennas out there but for comfort, ease of use and the unit is sealed (wisconsin weather) and doesn't change height it will be money well spent. The tar heel and high sierra types work but, most of the people iv'e talked to around here with them take them off in the winter and use a ham stick. the guys who have the hi-q use them all year round.
__________________
If you run, you'll only die tired.
CDX-251,2SF251,AE926, N9MSH
01-22-2008, 10:43 AM
Crotchety Old Bastard

Join Date: Apr 2005

Location: Oklahoma

Posts: 6,915
---
I like the 'Texas BugCatcher'. It has draw-backs! It doesn't adjust it's self, it's big, and it takes some care in setting up initially. It also has it's 'pluses'. As in can be used on any band, even the top and bottom ones. It's usually the most efficient (that's really true, but in most cases doesn't mean much except at the extremes). And what's important to me, it was cheaper than the screw drivers (it's hard to be cheap!
)
- 'Doc
It's the 'best' for my particular situation. Never found the absolute 'best' antenna in general, don't think there is one.
Also put together a screw driver antenna. Worked just fine till I abused the snot out of it. Haven't found the 'Bug Catcher's limit yet... also don't plan to.
01-22-2008, 02:16 PM
Extraterrestrial Admin

Join Date: Apr 2005

Location: High Sierras Near Yosemite Nat Park

Posts: 5,172
---
At this point I did not want to Get a Screwdriver antenna, I was looking at the Ham stick type antennas like Shark, Iron horse, pro Am and multi band mobile antennas like the Hustler system that uses a single mast, and muti-loads.
I don`t mind swaping antennas as most of the time I pick one band and use it. There is plenty of room in my truck to carry extra antennas, and I already use more than one antenna with Hustler Stainless steel Quick disconnects, they have held up very well with some heavy antennas.
The screwdrivers are nice, but by the time you get them set up it is A few $$ and if I break it I am stuck......I am a little rough on antennas at times
and I figure if I break a mono bander, I can just switch to another band untill I replace it.
Any way this is were I was going, and wanted some input, Keep the ideas coming guys, and Thanks!
73
Jeff
__________________
Radio-active
NASA/SOHO
When I was a child
I caught a fleeting glimpse
Out of the corner of my eye.
I turned to look but it was gone
I cannot put my finger on it now
The child is grown,
The dream is gone.
but I have become comfortably numb.
01-22-2008, 03:12 PM
Professional Amateur

Join Date: Apr 2005

Location: Nova Scotia,Canada

Posts: 11,103
---
I have run the 15m and 20m Hamsticks and they worked well for me.I also have one for 80m but do not use it much. I now use a homemade antenna that consists of a 4 foot fiberglass shaft wound with coaxial cable braid and covered with heatshrink tubing.It is topped off with a stainless whip about 5 feet or so long. This is used with my FT-857 and Yaesu's FC-40 autotuner for all band coverage from 40-6m. It won't load on 80m so I use the Hamstick there IF and when I do 80m mobile.
01-22-2008, 06:49 PM
Join Date: Apr 2002

Posts: 8,188
---
Jeff, I know someone who runs the Hustler loaded antennas and likes them, but by the time you buy all those coils, you could have just bought an inexpensive screwdriver. I've got a few hamstick type antennas laying around that use for backup type situations. They'll get you on the air, but don't expect magic.

Really you should consider one of the Carolina Cyclones by Jerry. They really are fairly inexpensive. Use it with a cap hat and be done. There are others out there that will probably out perform it, but for the money, it's hard to go wrong.
01-24-2008, 03:29 PM
W9WDX Amateur Radio Club Member

Join Date: Apr 2005

Location: West Central Highlands, VA

Posts: 934
---
Jeff,

I'm using the Hustler system. I have the 40m, 20m and 10m Super Resonators that I change out. I use the 56 inch fold over mast that took the place of my Mr Coily, so I'm using the same mount that is behind the cab of my PU. The 40m resonator is about as big as I wanted to go. The 80m is too large and I would have to guy it. I have been very pleased thus far on the performance of the system. Granted, use on 10m has been scant for obvious reasons. Conditons have been alot better on 20m for contacts into Europe. I normally keep the 40m on most for rag chewing here. I sometimes check into the "No Name Net" on 7.230 on the way home from work on Mon,Wed and Fridays. I think it starts around 4pm EST. As with any mobile HF antenna system there are compromises to be made. My compromise was cost. I don't mind jumping up in the back of the PU to fold over the mast change out a resonator. A decent screwdriver antenna system, properly installed can start at 300.00 and go up from there. I have researched the Hi-Q, High Sierria, Tarheel, Carolina Cyclone, GS-3 AND 4 systems. They all have their merits, complexities,installation issues and maintainence to stay on top of. After reading all I could, I decided to take the less costly but appropriately efficient system and went with the Hustler. Some also like the Hamsticks and they are comparable but since I already had a fold-over mast I simply picked out the resonators for the bands I thought I would frequent the most. If you have any old QST magazines there was an article not too long ago on mobile antennas. My Elmer said he read it and indicated to me that the Hustler type antenna was more efficient. I haven't read the article but it might be in the archive section for QST at the ARRL site.

73's

Wayne C.
__________________
"To be is to do"-Socrates;
"To do is to be"-Sartre;
"Do Be Do Be Do"-Sinatra;
WV4L
,CDX-787,
AK2787
Mobile/Base
Icom70000/Kenwood TS-2000 w/LDG AT-1000ProII
Stock mic or W2ENY headset on VOX/D104 w/Heil HC-5 or W2ENY headset on VOX
Tarheel 200A-HP w/N2VZ Turbo Tuner,Larson NMO 2/70B/TX-472 tower w/ 80M Horizontal Delta Loop, 20-6M K4KIO Hex beam, Gulf Alpha Dual Band Cross Polarity 7X7El. 2M:10 El.v70 CM beam, Arrow 146-440GP
Ameritron AL80A
| | |
| --- | --- |
| | |
Posting Rules

You may not post new threads

You may not post replies

You may not post attachments

You may not edit your posts

---

HTML code is Off

---
All times are GMT -7. The time now is
06:28 AM
.