There must be as many ways to build a ¼ wave ground plane as there are people who use them, but this one was cooked up over the weekend. The thread here about Stardusters got me to thinking about my neighbors who had them back in the mid-70s, and I had been asked by a couple in a local AM CB group about them, as well as using dipoles for local communications. Since I already had a dipole up cut for 27 MHz and had not had a ground plane for CB in decades, I decided to build one and play with it for a couple of weeks before all this good stuff has to come down for a new roof.
Those who have built antennas may want to skip this whole thing, but I get PM questions about things like this so maybe this will be helpful to someone who wants to build something but is afraid it either won't be any good because it doesn't have some brand name on it, or else they'll "blow their radio up" with a homebrew antenna.
This is nothing fancy, doesn't require any special materials or fancy matching networks. All the radiating parts are just 14 gauge insulated wire- if you know the innards of an Antron 99 are 16 guage wire then you know this isn't so far fetched.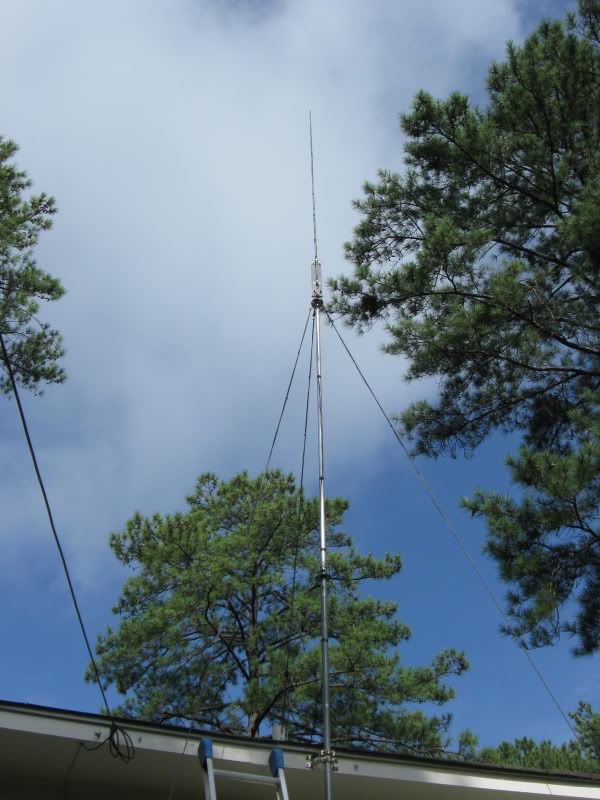 The radiator element and the three radials are all cut to 103 inches. That was arrived at by using
234/f
and cutting it just a bit short to allow for the small difference the insulation of the wire would make. I figured it wasn't critical, and it's not.
Basically, the radiator element is taped to a fiberglass fishing pole, the pole being fastened to a piece of 3/8" exterior plywood with ½" EMT conduit brackets. I used the pole only because I had one lying around from an earlier project, but if I were buying the materials new I'd just buy a piece of ½" conduit, it's cheaper. The plywood piece is clamped to the metal mast with two regular 1 ½" muffler clamps from the auto parts store. Those things do rust pretty badly so if you intend for the antenna to stay put long term, some stainless clamps from DX Engineering or the like might be worth while- but cheap was the operative word here.
The three radials are the same wire, with round terminals crimped and soldered to one end of each wire and the three of them connected to one #8 x 1 ¼" screw with flat and lock washers that goes through the plywood. The vertical radiator element goes to its own screw which is about 1 ½" from the radials' screw. It may be better to have them separated a bit more, but that's where I put mine. The coax is of course stripped for a couple of inches with the center conductor being connected via a round terminal to the radiator, and the braid joining the three radials with it's terminal. You
can
just solder all that together, but you'll find that even short pieces of wire make excellent heat sinks, and it's a
whole
lot easier to crimp and solder a lug to one piece of wire at a time and then connect them together with terminals and screws than try to get a good solder joint with all of them together. I just used plain hardware store zinc plated screws and washers, but stainless would be a good idea if you were going to leave this up for a long time.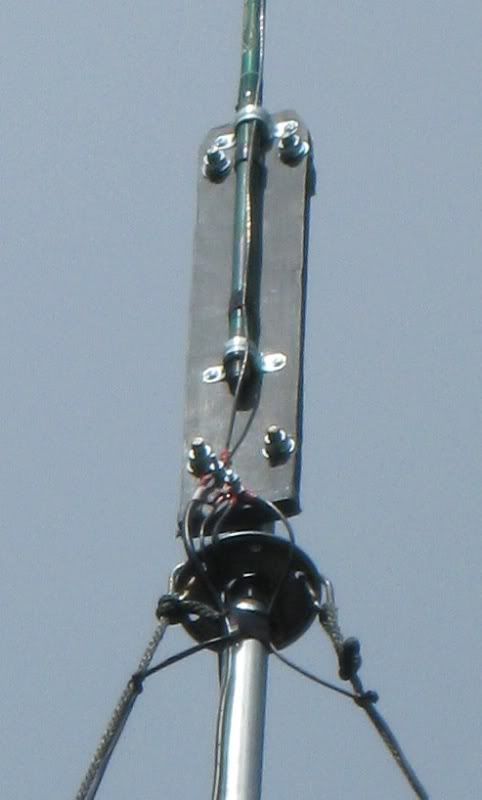 The radials were then taped to the mast just below the bracket for strain relief, and then tie-wrapped to the guy ropes, using tie wraps every 18" or so: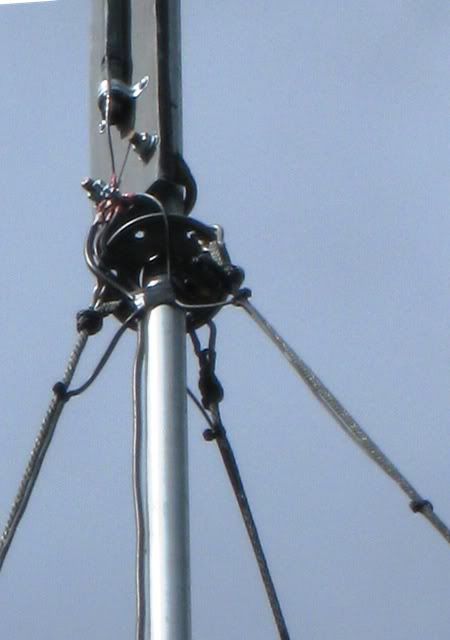 You may have seen and read that ground planes should have 4 radials, all spaced evenly around the 360 degrees and all coming off at about a 45 degree angle. Well yeah, they
should
, but I just happened to have three ropes for guys (you can't get away with this if you use guy
wires
) and the angles are what they are to accommodate various shrubs and things in the yard. But the whole thing is insulated from the metal mast. If the weather gets bad I unplug everything anyway, so grounding at the antenna is not an issue.
So how does it work?
Pretty well. First of all, the VSWR is below 2:1 from 25.050 to 29.100 MHz. I didn't expect that. I don't have an analyzer handy and my trusty old Palomar noise bridge has given up the ghost so I can't quote R,X, phase, etc. But it is very broadbanded. If I wanted to play with it some more, I might be able to cover the 12 meter ham band and still get the lower part of 10 meters with it, but that wasn't my aim here. Maybe someone can take this and run with it and try that, and maybe using the EMT instead of wire would make enough difference.
The bottom of the plywood mounting plate is exactly 28.5 feet from the ground, and my dipole for 27 MHz is about 40 feet away at an average height of 30 feet, so it's a pretty good case for comparison. The dipole is part of a fan dipole fed with 80' of RG-8X and a balun, this ground plane is direct fed with 50' of old RG-8 and 20 feet of RG-8X.
The only CB I own is a late 70s Sears 40 CH AM/SSB radio, and it just so happens the first contact on the ground plane was on 38 LSB
with no amplifier
to a station in Michigan. After that I spent a lot of time talking to the local group that night and switching between the two, as well as switching while listening to passing truckers and another local group some 25 miles away.
This is getting long so I'll save the vertical vs. horizontal issue for another time. Suffice to say this ground plane holds its own with the locals- the closest of which is 7 miles from me. I've also used it on 10 meters with 100W SSB and have had no TVI/cable/PC interference problems. No choke needed.
So if you've been thinking about building an antenna, just
do
it. You don't have to copy what I've done here, but this
will
work, and it costs next to nothing. There have been some other ground planes posted here lately, have a look at those and figure out what you want to do.
73,
Rick