connex board wiring help
| | |
| --- | --- |
| | |
08-06-2009, 10:04 AM
Junior Member

Join Date: Aug 2009

Posts: 6
connex board wiring help
---
my father and i are building up a cobra 29 gtl and we removed a connex board out of a 148 gtl original but we cant tell where and how to wire it into a 29
this is the board
08-06-2009, 10:53 AM
Senior Member

Join Date: Mar 2007

Posts: 98
---
MY PURPOSE FOR THIS PARTICULAR FILE IS TO INSTRUCT THE LAYMAN IN THE
PROPER INSTALLATION PROCEDURE FOR THE CONNEX (EB-3) ECHO BOARD. THE
INSTRUCTIONS GIVEN HERE WILL NOT BE CHASSIS SPECIFIC, AS THE ASSUMP-
TION ON MY PART IS THAT ANYONE ATTEMPTING TO FOLLOW ALONG WILL HAVE
THE NECESSARY ELECTRONICS BACKGROUND REQUIRED TO DO SO. I FEEL THAT
THE INFORMATION CONTAINED HEREIN IS ALSO NECESSARY DUE TO THE FACT
THAT THE INSTRUCTIONS SUPPLIED WITH THE BOARD ARE INACCURATE, AS WELL
AS INCOMPLETE. BEFORE WE GET STARTED, HERE ARE A FEW OF MY OWN COM-
MENTS AND INSIGHTS.

AFTER MANY YEARS OF REMOVING AND REINSTALLING CONNEX BOARDS IN A WIDE
VARIETY OF RADIOS, I HAVE COME UP WITH A LIST OF THE MOST COMMONLY
FOUND OR "CREATED" PROBLEMS RESULTING FROM THE IMPROPER INSTALLATION
OF THIS EVER POPULAR AFTERMARKET DEVICE, AND HERE THEY ARE.....!!!!!


#1....THE MANUFACTURERS OF THE CONNEX BOARD (IN THEIR INFINITE WISDOM)
PROVIDED A PAIR OF MOUNTING BRACKETS WITH WHICH TO "MOUNT" THE BOARD
TO THE FRAME OF THE RADIO. AND DID YOU KNOW THAT MOST OF THE RADIOS
ALREADY HAVE HOLES DRILLED TO ACCOMODATE THE BOARD, RATHER NICELY AS
A MATTER OF FACT.! THE BOARD NEEDS TO BE MOUNTED USING AT LEAST ONE
OF THESE BRACKETS TO FACILITATE PROPER GROUNDING AS WELL AS THE RF
STABILITY OF THE BOARD. YOU SO-CALLED TECHNICIANS OUT THERE WHO WRAP
THESE BOARDS UP IN TOILET PAPER, NAPKINS, PLASTIC BAGS AND THE LIKE
AND THEN TOP IT OFF WITH HALF A ROLL OF ELECTRICAL TAPE ARE KNOWINGLY
OR OTHERWISE DOING YOURSELVES AND YOUR CUSTOMERS A GREAT DISSERVICE,
AND AT THE SAME TIME PROVIDING QUITE A BIT OF WORK FOR OTHER SHOPS
AROUND THE COUNTRY, BECAUSE, AS THEY INVARIABLY DO, THESE THINGS
SOONER OR LATER COME INTO A SHOP WHERE THE CUSTOMER COMPLAINS, THE
RADIO IS BENCHED, AND 100 TIMES OUT OF 100 THE SOURCE OF HIS COM-
PLAINT CAN BE DIRECTLY TRACED TO THE CONNEX BOARD. MOUNT THE BOARD,
TAKE YOUR TIME, AND DO IT RIGHT. IF YOU DON'T, WE WILL!

#2....I'M SURE THAT ALL OF YOU, AT ONE TIME OR ANOTHER, HAVE RUN INTO
ONE OF THESE BOARDS IN A RADIO IN A SITUATION WHERE WHEN THE MIC. GAIN
IS FULL ON, THE RADIO TRANSMITS A TYPE OF SQUEAL, BUT HAS ABSOLUTELY
NOTHING TO DO WITH THE TALKBACK CIRCUIT. THERE ARE TWO AREAS THAT
NEED TO BE INSPECTED. FIRST OF ALL, CHECK TO SEE WHETHER THE OR NOT
THE POWER GROUND CONNECTION IS BEING USED. (THE BLACK WIRE RIGHT NEXT
TO THE BROWN 8 VOLT DC LEAD. DO NOT CONNECT THIS LEAD TO ANYTHING IN
ANY RADIO AT ANY TIME WHATSOEVER.! CUT IT OFF FLUSH AT THE PLUG AND
FORGET ABOUT IT!!!) WHEN THIS LEAD IS CONNECTED SIMULTANEOUSLY WITH
BOTH THE SHIELD GROUND RETURNS ON THE AUDIO INPUT AND OUTPUT LEADS TO
THE BOARD, YOU ARE CREATING A "GROUND LOOP". GROUND LOOPS CAUSE RF
FEEDBACK IN THE BOARD AS WELL AS DESTABILIZING THE BUCKET CIRCUITRY,
CAUSING OSCILLATION, AS WELL AS A HOST OF OTHER PROBLEMS. THE OTHER
AREA THAT NEEDS TO BE DISCUSSED IS THE FACT THAT THIS BOARD IS DESIGN-
TO FUNCTION PROPERLY AT 8 VOLTS, + OR -. WE SEE SO MANY RADIOS COME
INTO THE SHOP WIRED DIRECTLY TO THE 13.8 VOLT RAIL. FORGET ABOUT THE
SERIES DROPPING RESISTORS. I HAVE YET TO FIND A RADIO THAT DOESN'T
HAVE A STABLE 8 VOLT SOURCE FROM WHICH TO POWER THE CONNEX BOARD.
TAKE YOUR VOLTOHM METER, GROUND THE NEGATIVE LEAD, AND IN TRANSMIT
MODE, FIND AN 8 VOLT SOURCE ON THE CHASSIS OF THE RADIO. IT'S THERE,
JUST LOOK FOR IT AND FIND IT. WHEN YOU DO, CONNECT THE BROWN WIRE
FROM THE CONNEX BOARD TO THAT POINT. SIMPLE!

#3....WHEN YOU ARE LOOKING FOR A PLACE TO GROUND THE INPUT AND OUTPUT
SHIELDS, (YES, THEY DO NEED TO BE GROUNDED) TWIST THEM TOGETHER AND
TIN WITH SOLDER, THEN GROUND THEM AT ONLY ONE OF TWO POINTS. EITHER
AN IF RECEIVER CAN IN THE VICINITY OF THE MIC. CONNECTOR OR DIRECTLY
TO THE GROUND PIN OF THE MIC CONNECTOR!! YOU WILL FIND THAT IN THE
"NEW" COBRAS COMING FROM CHINA, GROUNDING TO AN IF RECEIVER CAN WILL
NOT WORK. THE GROUND FOIL ETCH ON THE CIRCUIT BOARDS IN THESE RADIOS
IS SO THIN AND INDUCTIVE THAT GROUNDING HERE "WILL NOT WORK". BUT,
GROUNDING AT THE MIC CONNECTOR GROUND PIN IS VIRTUALLY FOOLPROOF!!!!

#4....ALWAYS BREAK OPEN THE LINE FROM THE MIC. GAIN CONTROL TO THE
MIC. CHASSIS CONNECTOR AND WIRE INPUT AND OUTPUT AT THIS POINT ONLY!
YOU SAY YOU CAN'T TELL WHICH ONE THAT IS? GRAB THAT VOLTOHM METER
AGAIN, SET ON RESISTANCE OR CONTINUITY, TOUCH ONE LEAD TO THE MIC.
AUDIO PIN, THEN WITH THE FREE LEAD, PROBE THE THREE PADS OF THE MIC,
GAIN CONTROL. THE ONE THAT INDICATES THE LEAST OR NO RESISTANCE IS
THE LEAD TO BREAK OUT FOR CONNECTING THE SHIELDED INPUT AND OUTPUT
LINES OF THE CONNEX BOARD. AND WHEN YOU CONNECT THE WIRES, FORGET
ABOUT THE "ELECTRICAL TAPE" AND USE THE PROPER SIZE HEAT SHRINK TU-
BING, IT'S SO MUCH MORE PROFESSIONAL LOOKING, AND IF THE CUSTOMER IS
WATCHING, I CAN TELL YOU THAT HE THINKS SO TOO!......................

#5....NOW THIS IS THE ICING ON THE CAKE. TECHNICIANS UNFAMILIAR WITH
THE CONNEX BOARD WILL MISS THIS ONE EVERY TIME. LOCATE THE INPUT LINE
TO THE CONNEX BOARD. YOU WILL NOTICE A 1K OHM RESISTOR CONNECTED FROM
THE CENTER CONDUCTOR OF THE INPUT CABLE TO GROUND, OR THE SHIELD.
UNSOLDER THIS RESISTOR FROM THE BOARD, OR SIMPLY CUT IT OPEN. YOU
HAVE JUST INCREASED THE INPUT LEVEL FROM THE MICROPHONE TO THE INPUT
OF THE CONNEX BOARD BY 3DB. THIS MODIFICATION IS NECESSARY WHEN THE
RADIO IS USED WITH MICROPHONES SUCH AS THE RK-56/B OR THE ASTATIC 636L.

#6....BEFORE YOU INSTALL THE CONTROL KNOBSET, (YES, YOU WILL FINALLY
GET A CHANCE TO USE THAT ROLL OF ELECTRICAL TAPE AFTER ALL) WRAP
ENOUGH TAPE AROUND THE FRONT OF THE CONTROL TO COVER THE THREE TAP
CONTACTS ON THE FRONT OF THE BAKELITE BOARD TO PROTECT THEM FROM
SHORTING TO THE FRAME. NOT TOO TIGHT, EITHER, AS THE TERMINALS CON-
NECTING THE WIRE HARNESS COULD SHORT AS WELL.

Cotton Mouth
08-06-2009, 10:58 AM
Senior Member

Join Date: Mar 2007

Posts: 98
---
The RF Limited TRB-1 Turboń Echo Board
There are echo boards and there are echo boards, for that matter there are copies of echo boards. The most popular is the Connex board. Many truck drivers donĺt even know that a Connex board is an echo board. Iĺm not quite sure why this is so. However, I can take a guess or two. The Connex radio has been around for many years and is known as a higher-powered radio with echo. Some call the big radios. Before the echo boards were available as add-on kits if you heard a radio with echo, it was thought to be a high power or big radio. The echo, set properly, does give the appearance of a base station in a big room sound, hence big radio. The Connex board doesnĺt increase the amplitude of modulation. It creates the elusion of the signal coming from a larger than life source.

Now, the TRB-1 Turboń echo board does all that and much more. First, it has an audio output adjustment that adjusts to a substantially higher output level than its input source. Second, there is also audio tailoring done in the amplifier stage as well as in the echo stage. Third, the board has an on-board coarse echo volume adjustment. Forth, it is capable of Reflex Echoń & Endless Echoń. Fifth, its capabilities include sound effects like Whammyń & multi-tone Alien Voiceń. Check the audio samples below.
TRB-1 Audio Samples
Reverb Slight Echo Repeat Echo
Endless Echo Whammy Effect Other Effects
High Alien Voice Medium Alien Voice Low Alien Voice



The RF Limited TRB-1 PC Board

This resistor is removed in installations where a resistor is missing on the standard board.
Remove the wire from this end of the standard board and insert and solder it here.




The TRB-1 Complete


The TRB-1 is designed to fit in place of the Connex type board. The power, input, output, and the PA preamp jacks are plug compatible. The potentiometer is a different value, so this must be swapped out if you're replacing a standard echo board. Also the red wire for J4 must be connected to a 13.8 volt switched source. The black wire can be cut off. Connecting the black wire to ground could cause a ground loop creating distortion or even a squeel.

The instructions supplied with the PC board are very good. Although every radio couldn't be covered, they cover the most common radio upgrade procedure and include 5 mic connector wire schemes that probably cover 90% of the radios on the market.

One thing that has caused some confusion, there is a connector on the J12 header. This connector has a gray shielded cable and a single yellow wire. This can be unplugged and discarded. This J12 header is only used in radios that already have an echo board installed and there is an on-board public address pre-amp on the circuit board. If the old board has a connector in this position, just insert it into the J12 position as part of the installation. On new installations, this position has no function and isn't used.

In addition, some of the newer radios may have changed the pin outputs of the J1 output and J2 input connectors. This will require either rewiring the existing connectors or installing the supplied J1 and J2 wiring harnesses. It's a little bit of work, but it's worth it.

A couple of tips when doing a new installation: Cut the red wire off of the J1 connector, its just a duplicate of the white wire on J1. Also, twist the two shields of the J1 and J2 connectors and connect then to the ground pin of the mic connector.



Mic Jack Pin Function
Pin Number Cobra
Uniden
4-Pin Cobra
Uniden
5-Pin SSB HR-2510/2600
Lincoln
Emperor
5-Pin RCI-2950/2970
2985/2990/2995
Eagle
6-Pin Midland
AR-3300/3500
4-Pin
1 Ground Audio Audio Ground Audio
2 Audio Ground Ground Audio Ground
3 TX RX TX TX RX
4 RX PTT Common Up RX TX
5 - TX Down Up -
6 - - - Down -



TRB-1 Pin Function

1 2 3
J1 Audio Output Ground TX
J2 Audio Input Ground TX
J4 13.8 Volts Ground -


Cotton mouth
08-06-2009, 11:08 AM
Junior Member

Join Date: Aug 2009

Posts: 6
thank you
---
that was alot of help i dont understand most of it but my dad does and if we have any problems we will contact the local cb shop
ps the board was put in by a "pro" and is wraped in a plastic baggy and is not screwed to any thing and the ground wire is hooked up
thank you
nick
08-08-2009, 04:35 PM
Junior Member

Join Date: Aug 2009

Posts: 6
---
we figured it out thants to a post on another site by cottonmouth it turns out that we had a LT2D echo board thanks cotton mouth
---
Last edited by nicknewbie; 08-08-2009 at

08:15 PM

.
08-10-2009, 02:46 AM
Junior Member

Join Date: Jun 2009

Posts: 6
---
Cotton mouth, if you could answer a question I would really I would be forever in your debt. I have an older connex 3300 and it has a loud pop when you key and unkey the mike. I wonder if it might be the echo board causing it. I understand that the 3300 and the Galaxy 33hml it about the same radio but the galaxy doesn't have the echo, and the galaxy doesn't have the pop. Is there a simple way I can unhook the echo board to see if that dose the trick. By the way turning the echo off doesn't effect the pop. I have 2 of these radios and I would gladly give up the echo if it would get rid of that annoying pop. Thanks! ..Tim
08-10-2009, 05:57 AM
Senior Member

Join Date: Mar 2007

Posts: 98
---
Yes it could very well be the Board itself, it does happen quit often. Anyways I assume you never had that popping noise before you tried to install the Echo Board correct.
I don't know squat about the Galaxy Echo Boards period to be straight up honest with you so I can't say for sure. I'm going to attach another set of directions that sometimes is a better or simpler way to go about the installs on most Echo boards and if you cant read it email me at
darrinbeatty@windstream.net
and I will email you a copy and also take a few pictures of a older Connex 3300HP ZX I have with the Echo Board installed in it to give you a better view.
Anyways I would go back over your work and trace back the wires and double check your connections and what not in the mean time but there is something not right I can say that for sure but rest assure we will get it figured out one way or another, it is just really hard to be able to tell you exactly for sure when I don't have the radio in front of me and I think that is why not to many other are wanting to take a stab at this like myself but I'm always up for a good challenge and this could be one of them.
You can unhook the Echo Board by just unplugging the power plug on the board itself only and try that but if it still does it when you manually turn the power off than you have a problem and I don't think just unplugging the power is going to change anything at this time like what your wanting it to.
Here you go check this out and than if you are still having trouble email me and we will work on it somemore and get it fixed for you.
cotton Mouth.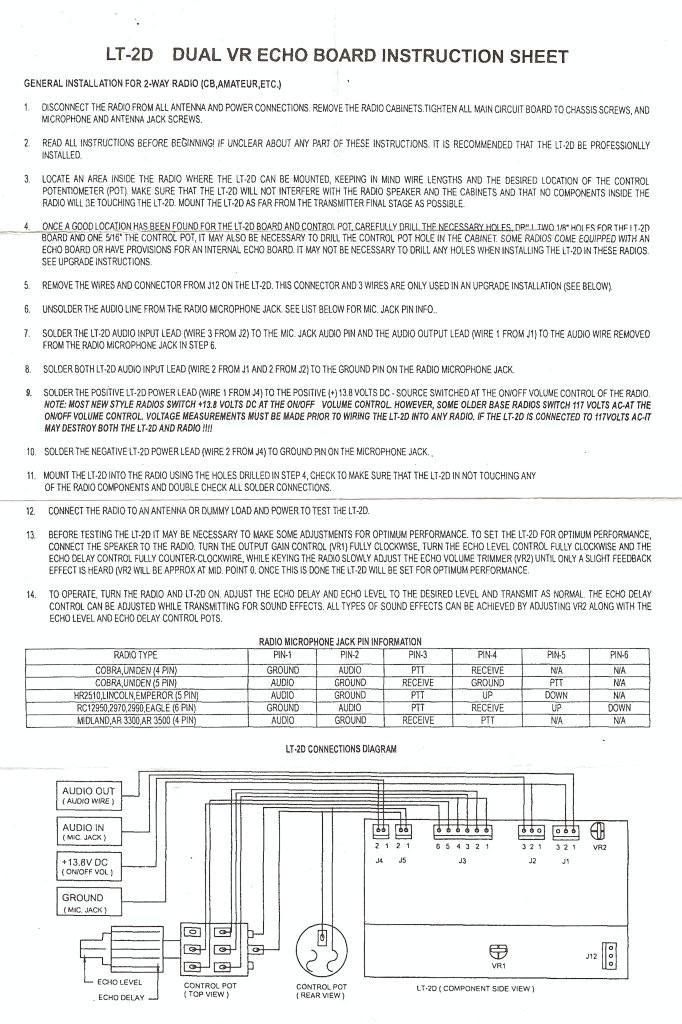 ---
Last edited by Cotton Mouth; 08-10-2009 at

06:07 AM

.
08-10-2009, 05:47 PM
Junior Member

Join Date: Jun 2009

Posts: 6
---
Thanks! I believe the radio came with the echo board. Both 3300s I have, had them when I got them. I unplugged J4 and unplugged all of the plugs, 1 at a time and 1of them stopped the RX and 1 stopped the TX but none of them stopped the popping as long as it keyed and received. I'll try to find my webcam and post a pic of the board. Thanks ...Tim
| | |
| --- | --- |
| | |
Posting Rules

You may not post new threads

You may not post replies

You may not post attachments

You may not edit your posts

---

HTML code is Off

---
All times are GMT -7. The time now is
10:00 PM
.