You can now help support WorldwideDX when you shop on Amazon at no additional cost to you! Simply follow this

Shop on Amazon link

first and a portion of any purchase is sent to WorldwideDX to help with site costs.

Dismiss Notice
Dismiss Notice
This forum does not allow a single user to have more than one username. If anyone wants to change their username contact an admin and it will be done. Multiple accounts belonging to the same member will be deleted without warning.
A few of the WorldwideDX.com members made me aware of some small, inexpensive switching power supplies being sold on Amazon and eBay and they swore that they were free of hash. After my unbearable experience with the MFJ-4275MV supply (
original thread here
), I was curious to find out myself if the $30, 30 amp switching supply on Amazon made for a better operating experience.
This is the product that I purchased on Amazon:
And this is the MFJ-4275:
The Amazon unit doesn't come with a power cord, but must of us have those laying around to sacrifice. After wiring up the AC, I also wired up a DC cord for the rig, complete with Anderson power poles.
The first thing I wanted to find out was how bad the hash problem is on the $30 Amazon unit. I turned on the NaP3 Panadapter, used with my Elecraft K3 and took a print screen so you can see the hash...
Since few years already I've been following what the guys at Chameleon Antenna were doing and in 2014 they've released a couple of new and interesting antennas. From what I've seen so far their product quality went up drastically!
Is there anyone on this forum who is actually using them?
They've been selling on Ham Radio Outlet (
http://www.hamradio.com/
) since January 2014 which is where I saw their latest products few months ago.
I really like their light weight and portable HYBRID-MICRO as I saw a guy using it on a man pack system that he built himself. It was so cool. The man pack looks like the one in that video:
http://chameleonantenna.com/PORTABLE ANTENNA/CHA HYBRID-MICRO/Chameleon HYBRID-MICRO.html
Few weeks ago I also noticed that Chameleon Antenna are working on a portable magnetic loop antenna (something like the Alex Loop but really different). I don't know anything about loop but this thing looks...
Yaesu has announced the new all band FT-991 compact rig for base and mobile use that will replace the FT-897D. In addition to the standard modes, it will also support Yaesu's C4FM Digital mode. With the absence of a true mobile HF rig from Icom's lineup, the new FT-991 could become a major player in the ham market, if for no other reason than its form factor.

Here are a few pics from the 2014 Tokyo Ham Fair:

Here is the press release:

We are pleased to announce the launch of an exciting new product, The FT-991 HF/50MHz/VHF/UHF Base Station Transceiver. The Yaesu FT-991 Transceiver is capable of operating SSB, CW, AM, FM, Packet and System Fusion C4FMDigital. The legendary tradition of Yaesu design is a legacy of excellence established decades ago, providing quality, stability and durability. The Yaesu FT-991 is designed for the most competitive operating situations, with a suite of new features to'enhance the experience. Whether you primarily...
Have 2 of these 30 amp supplies. Daily users. Awesome deal on ebay … blah blah you know them.

There's dust everywhere. Can't avoid it …. although it has been suggested to slide a leg of thin panty hose over the unit to keep dust out …. or rig your own filter.

One of mine experienced a dust buildup on the fan blades and it when it reached a critical point it put the fans blades off-balance making the fan suddenly hard-to-start and noisy.

Easy fix. The top comes right off and the fan is the only thing attached to the top. Open top and with a small brush, remove all the dust from both sides of the fan blades, then if you have it, blow off the fan with compressed air be sure to get into the little crack-space where the fan blade mounts onto the fan motor.

Fan operation right back to normal.
Congrats on winning this MFJ-1790 10/11 meter portable base antenna!
Thanks to everyone that participated. Stay tuned for the next giveaway, and remember: follow all of the contest rules to make yourself eligible.
In the meantime, check out some of Terrible's station pics:
http://www.worldwidedx.com/members/terrible.26968/
Every now and then the subject comes up of the proper way to solder a coax connector or heavy ground wires etc. In the past I have mentioned about soldering copper flashing etc also. I have mentioned about using a solder tip made to fit a propane torch and a lot of folks have never heard of such a thing. I tried to find an image on the net to post several times and came up empty. I have since looked in the hardware stores and again came up empty. Apparently these are a thing of the past I guess. Last week I was cleaning up my shop and low and behold I found it. this will fit the regular size propane torch head as well as the smaller "Spitfire" heads which I have it mounted to in the images below. It takes about 45 seconds to go from cold start up to melting solder. Not sure what the wattage equivalent it would be but any electric iron would be hard pressed to even try and keep up with it. It even works on LARGE copper sheets. Once you get started it just keeps going and going and...
Well I see we have a "new" forum. In the meantime while the upgrade was coming... I got my upgrade rig. I decided on the Yaesu FTDX-3000D. Very nice rig so far, and I really like the receiver. The DSP is not annoying like a lot of rigs I have listened to. Yes, you still get some of that phasing sound, but it's really not bad. You can make signals "pop" out of the noise with all the features it has. I haven't gotten the transmit audio worked out yet, as I have the W2IHY 8 band eq and Eq Plus outboard audio equipment. Doing some preliminary settings via the monitor through headphones, but I know that's not really accurate. I'm going to have to do some on-air checks to get it just right. Internal tuner is kind of weird, but it is tuning my delta loop on 40 through 6, and actually tunes my end fed random wire on 80 and up. So far, I'm very happy with it!
73,
Brett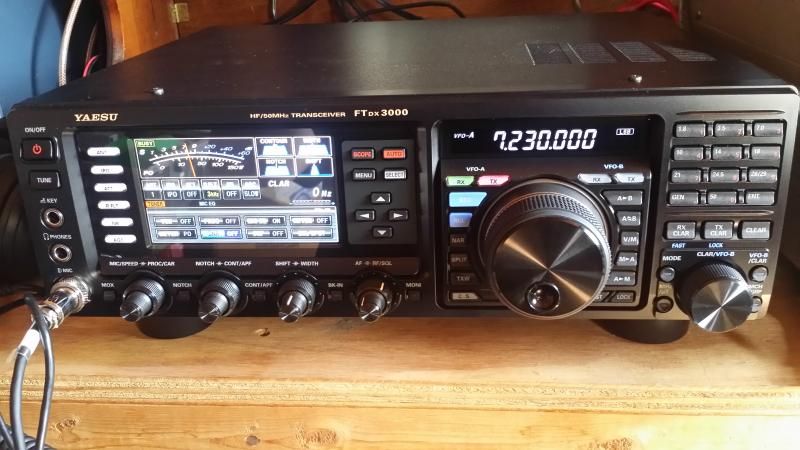 The new WorldwideDX Radio Forum has launched, and we're giving away an MFJ Antenna!

Welcome everybody to the new and improved site. There are a lot of new features available for everyone, as well as vastly improved support for mobile and tablet users. Please take a few moments to look around and discover what's new, but please exucse some of the mess that still needs to be cleaned up. Now that we've completed our platform conversion, we will continue to add new features. Remember, new features are only possible by supporting the site and its advertisers!

Here is a picture of the MFJ-1790 Antenna that we're giving away in conjunction with the new site:


MFJ-1790 Installed on short mast by Moleculo on WorldwideDX Radio Forum

Antenna Specs:
Elecraft sent a pre-release 4 meter optional add-on board to Peter Waters of Waters & Stanton for testing in the U.K. Watch below as he makes the first QSO in the world on the new KX3 option:


I've been so impressed with Icom's recent ID-31 and ID-51 handheld radios, that when news came out that they were releasing a new mobile VHF/UHF/D-Star radio with built-in GPS, I was immediately interested. Early reports indicated that the new ID-5100 would incorporate most of the same user interface concepts, including the SD card slot which made the decision to purchase even more compelling. I freed up some cash by selling a few items from the shack and when the radio finally showed in stock at my favorite retailer, I made the $750 purchase.

Upon receiving the package, i immediately tore into it like a kid during Christmas, took everything out of the package and laid it out for the obligatory de-boxing photo:



One thing you immediately notice about this package is that it is missing some typical inclusions: the mobile mounting bracket for the body is not included and neither is a way to mount the control head. Other than the main radio body, control head, and mic, the...